Printer-friendly version

Send by email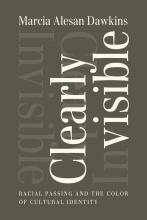 Today my book, CLEARLY INVISIBLE: RACIAL PASSING AND THE COLOR OF CULTURAL IDENTITY is released, and I need your help.
This is my first book (published by Baylor University Press). It's like giving birth to a child except it took longer and I don't have to start a college fund. In all other ways, however, the commitment is the same, and I'm writing to ask for your help in making this research project and provocative, full color conversation-starter a best-selling book.
So here it is. Here's how you can help.
BUY IT
Right now. Just do it. If you've already gotten a copy, thanks! Now you can buy one for someone else!! It's available in hardcover through online outlets like Amazon, Baylor Press, and Barnes and Noble. It's also available as an e-book through Amazon for your Kindle and iPad. Plus… if you've ever enjoyed my free blogging, free lecturing and moderating, free TV, documentary, radio, and podcast appearances, free editing, free tutoring, free babysitting, or free, awesome company, this is how you can repay me.
BUY LOTS OF IT
If you have access to a large group of people: company, school, church, synagogue, mosque, temple, family reunion, etc. buy 50 or 100 or more. Contact us about customization of large orders.
RATE IT
Preferably with five stars. Do this as soon as possible. Do it now. People on Amazon like to do what other people on Amazon tell them to do. Go out there and be a leader. ;)
And, if you use Goodreads, please take a moment to add it your shelf. Thanks!!
READ IT & TWEET
We've assembled a few useful messages on this page, including a trailer, quotable lines from the book and endorsements from people like New York Times best-selling author Heidi Durrow and professors Michelle Elam and Margaret Hunter. Please mention the book right now in your blogs, vlogs, email newsletters, and social media networks.
On twitter, please reference the book with the hashtag #ClearlyInvisible and mention @drdawkins09. On Facebook, like the book and tag it and me (http://facebook.com/marciadawkins) in your status updates.
TALK ABOUT IT
This book isn't an epilogue on race, ethnicity, identity, or communication. Rather it's a prologue to dialogue and metalogue on these issues, and I want you to join in. Clearly Invisible is ultimately about how everybody navigates the world and we've built a platform to get people talking about mixed race identities in particular and identity in general. Starting with each day during the month of August, we'll focus on one question at http://www.clearlyinvisiblebook.com. Go there, take the poll, and submit your thoughts. Who knows? You could win an autographed copy of the book or some of the cool "Clearly Invisible" merchandise!
SHARE IT
You all know someone that NEEDS this book, maybe a teacher or professor, maybe a graduate or undergraduate class, maybe an online or on-the-ground reading group, maybe a company executive, maybe a political office-holder, maybe a reporter, actor, or artist. Even if the book isn't for you, you probably know a few for whom it is perfect and necessary. Please consider forwarding this post (which I assume you've already done because you're an awesome person) and actively introducing us to this person. Basically, I need you to introduce me to Barack Obama, Soledad O'Brien, Rachel Maddow, Melissa Harris-Perry, Michele Norris, Henry Louis Gates Jr, Rashida Jones, and, of course, Eminem. There, I've said it.
BOOK IT
Take a workshop or class with me, or invite me to your college or corporate campus. Sample topics include: "Racial Passing and the Color of Success"; ""Racial Passing and the Color of Love"; "Racial Passing and the Color of Alternate Realities"; "Mixed Race 3.0: A Mixed Race Media Experience"; "Who Is(n't) Multiracial? And Why Twitter Knows the Answer;" "The Real Slim Shady: Eminem as a Racial Passer;" and "The Clearly Invisible Woman." I offer workshops, panel discussions, and a Q & A after performances. Please contact us for details and questions.
LOVE IT
This project is a huge deal. The book is incredibly personal. It represents years of diligence and passion. If other ideas for how to help come to mind please tell me about them. But also know that I'd really appreciate it if you would send positive energy my way. You can feel free to do that on my personal website (http://www.marciadawkins.com).
And, let's stay in touch. Stop by, say hi, subscribe to the email list for the latest news, and get a book signed.
Oh, and don't forget to pick up a mug or t-shirt along with the book. Please tweet us photos of you reading, wearing, or using the Clearly Invisible products we produced. You will likely become our next Twitter star!
Yours truly, thank you.
Marcia Alesan Dawkins, Ph.D.